MCPET, highly reflective PET foamed sheet, developed and produced by Furukawa Electric.
MCPET
Product Inquiry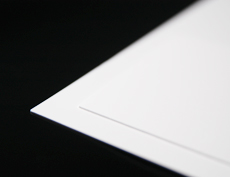 Excellent light reflectivity and diffuse reflectance performance.
Allow extensive usage as reflection board on lighting fixture in public areas, LED sign boards, LCD black up lights.
Enable energy savings by reducing the number of fluorescent lamp and combination with LED. High appraisal received worldwide for the efforts extended to the CO2 reduction and conservation of energy.
Features
Outstanding optical reflection performance. (Total reflectivity is 99% within 96% of diffuse reflection.)
To improve the intensity of illumination sign board.
Handy work ability and processing.
Practical for heat resisting property, incombustibility and environmental performance.
Applications
Ceiling lights
Light corridors
LED sign board
Bus stops and Bill boards
Plant factory
Facade sign boards
Auto-motive interior lights
Related Site
Furukawa Electric Co., Ltd.『MCPET』