Newest, most advanced 3D Digital Microscope by Hirox, ideal for research & development and quality assurance.
KH-8700 Digital Microscope
Product Inquiry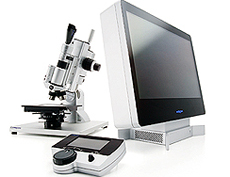 KH-8700, the Next Generation 3D Digital Microscope, features high usability and characterized by 3D observation technology, advanced and high quality operations such as observation, measurement, analysis, recording is possible.
Features
Original 3D observation technology of Hirox.
Fastest real-time image processing for digital microscope.
Ultra-fine details of images.
Point Focus (Easily and quickly auto focus)
Multiple angles of observation. – Various 2D and 3D measurement technologies.
Real-Time 3D tiling
Easy operation by Remote Device with a touch-screen (CT-R01)
Usage
R & D
Quality Assurance
Production / Manufacturing Technology
Designing
Original 3D Observation Technology
360 degree rotation of the mirror enables the side of the object to be thoroughly observed. The object shape can be freely ascertained in a limited space and in 3D without the need to tilt the lens, object or make complex focus adjustments.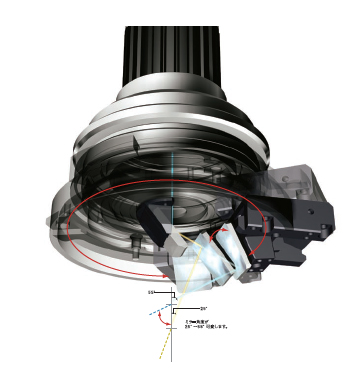 Point Focus (Auto Focus)
A key advantage of KH-8700 is the ability to easily and quickly auto focus an image. All one has to do is double click the desired location on the monitor and the high speed software dose the rest by automatically selecting the optimal focus point.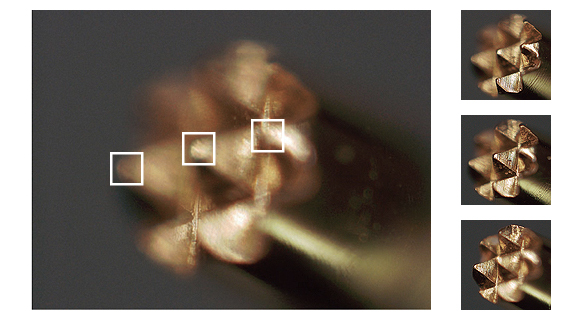 2D Measurement
Measurements including length, area, and surface area can be taken in various styles with 16 kinds of measurement tools, easily operated through icons on screen.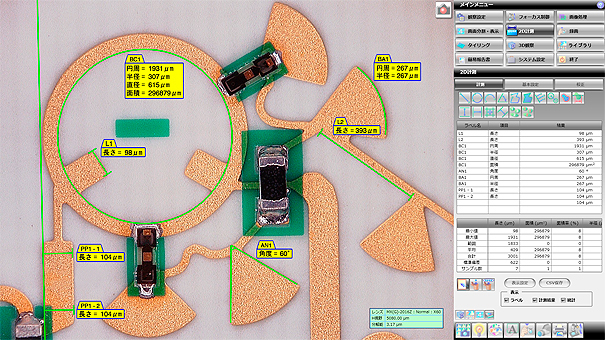 Remote Device
User friendly controller simplifies operation by integrating all function with a touch-screen. The remote device provides quick and easy operation. Main functions are displayed on the remote's home-screen for easy access.
Specification : Main Control Unit (Basic Functions)
Camera
Image sensor 
1/1.8-inch, 2.11 Mega-pixel CCD Sensor
Scanning Mode
Progressive Scan
Total Pixels
2.11 Mega-pixels 1688 (H) x 1248 (V)
Effective Pixels
2.01 Mega-pixels 1688 (H) x 1236 (V)
Visual Pixels
1600 (H) x 1200 (V)
Frame Rate
24 Frame at 1600 x 1200 Pixel Resolution
High Dynamic Range (HDR)
32 Bit Resolution Process and 16 Bit Resolution Output
Electronic Shutter
AUTO (1/24 to 1/100000)

MANUAL (8, 4, 2, 1, 1/2, 1/4, 1/8, 1/24, 1/60, 1/100, 1/250, 1/500, 1/1000, 1/2000, 1/4000, 1/8000, 1/15000

Supercharge Shutter
Preference Setup (17 to 1/100000)
Gain
Auto (0dB ~ 6dB), Manual (0, 3, 6, 9, 12dB), OFF
White balance
Auto (One Push), Manual (R, B)
Camera Cable Length
2 Meter (Option: up to 10 meter extension)
Back-Focus Adjustment
NOT Required
Image
Format
Exif-JPEG (compressed), Exif-TFF (non-compressed), BMP (non-compressed)
Maximum Pixel Resolution
58 Mega-pixels – 8600 (H) x 6600 (V) (Non-Tiled Image)
Maximum Pixel Size
225 Mega-pixels – 15000 Pixels (H) x 15000 Pixels (V) (Tiling Image)
Movie Format
AVI (non-compressed), WMV (compressed)
Monitor
Display Size
Full HD LCD 21.5" Monitor
Panel Size
18.75" (H) x 10.56" (V) – 476.2 (H) x 268.11 (V) mm
Pixel Pitch
0.01" (H) x 0.01" (V) – 0.248 (H) x 0.248 (V) mm
Number of Pixels
1920 (H) x 1080 (V)
Display Color
Approx. 16,770,000 colors
Brightness
300cd/m2 (typical)
Contrast Ratio
1000:1 (typ)
Viewing Angle
170° (Horizontal), 170° (Vertical)
Light Source
Lamp
High Intensity LED
Lamp Life
30,000 hours (Average)
Color Temperature
5700K
Image output
Output method
Analog RGB/ DISPLAY PORT (1920 X 1080Pixel or more)
Output
Video
Analog RGB / Display Port (Requires higher than 1920×1080 Pixels)
Step Motor
Z-Axis Step Motor Controller Port (5 Phase Motors Driver Integrated)
Rotary Head
DC Motor Controller Port
Input
ACS Terminal
ACS Sensor Connection Port
Keyboard and Mouse
Support 2.0 USB Keyboards and Mouse
External Remote
Foot Switch (Freeze / Capture Image) Port
Remote Device
Remote Device (CT-R01)
Extra Controller
RS-232C Connector Port
Interface
LAN
10BASE-T/100BASE-TX/1000BASE-T
USB2.0
6 Ports (2 x Side, 4 x Back)
Storage Capability
Hard Disk Drive
500 GB Hard Drive (300 GB of Recording Capacity)
Approx. 1,500,000 Images (compressed) to Approx. 50,000 Images (not compressed)
Other Drives
USB 2.0 external CD-R/RW, DVD±R/+R, DVD/±RW/-RAM, HDD
Power Supply
Rated Voltage
AC100~240V, 50/60Hz
Power Consumption
400W
Environmental
Resistance
Ambient Temperature
5° C to 40°C (no freezing or condensation)
Storage Temperature
'-10° C to 50° C (no freezing or condensation)
Relative Humidity
25 to 85% RH (no condensation)
Atmosphere
Corrosive Gas Prohibited
Weight
Main Unit
Approx. 14 kg
Camera
Approx. 1 kg
Remote Device (CT-R01)
Approx. 0.5 kg
Dimensions
Main Unit
20.67" (W) x 17.42" (H) x 8.70" (D) – 525 (W) x 442.5 (H) x 221 (D) mm
Related Link
Hirox