TOTOKU's own hollow core dielectric body structure uses RUOTA.
High Performance Coaxial Cable (RUOTA)
Product Inquiry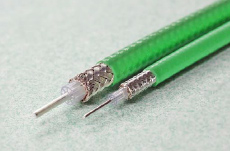 As a result, we are able to achieve high quality features such as excellent mechanical strength with low loss and low capacity in diameter.
Features
Stable characteristic impedance
Supports high frequency
Extremely small phase fluctuation due to temperature change
Small diameter
Outstanding heat resistance/chemical resistance
Applications
・Semiconductor tesuting
・Measurement device lead wire
・Mobile telecommunications base station
・Antennas
・High-speed differential transmission
Characteristic impedance stability

Phase fluctuation due to environmental temperature change

Mechanical strength (bending life)

Mechanical strength (minimum bending radius)

Cable structure

Standard size
Conductor composition
Solid wire
Standard wire
Conductor material
SPC
SPC, TCW
AWG size(mm)
24(1/0.511)〜30(1/0.254)
26(7/0.16)〜32(7/0.08)
Dielectric material
PFA
Hue
Natural hue (translucent)
Natural hue (translucent), Optical color (green)
Characteristic impedance (Ω)
Application for measuring instruments 50±1
Application for inspection equipment of semiconductors 51±1
※Values within the performance charts are typical values, not guaranteed values.