Our Electromagnetic Induction Coil is the ideal solution for wireless charging and wireless electricity.
Electromagnetic Induction Coil- For contactless charging / wireless charging
Product Inquiry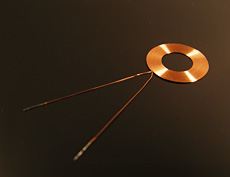 Technologies of Wireless Charging realize contactless charging or transfer of power to electrical devices.Our high-performance Electromagnetic Induction Coil, by using Litz Wire or Magnetic-Plated Wire, has tackled the problem of skin effect and proximity effect caused by the increase of high-frequency resistance, is the ideal solution for wireless power charging and transfer which are recently the market's spotlight.
Features
High-frequency Coil wound by Litz Wire or Magnetic-Plated Wires
High efficiency of transmission
Improvement on Quality Factor (high inductance, low loss )
Compact and space-saving
Mechanism of contactless charging
We provide coils of either primary side or secondary side by resonance method and electromagnetic induction method for contactless charging.
| | | |
| --- | --- | --- |
| ■Spiral Coil (Normal wire) | ■Spiral Coil (Litz Wire) | ■α winding spiral coil |
| ■Spiral Coil using Magnetic-plated Wire | ■Patented Coil (Registered design) | ■Copper Clad Aluminum Litz Wire |
| ■Edgewise Coil using Flat Wire | | |
Related Products
→ CCAW (Copper Clad Aluminum Wire)
→ Litz Wire
→ Magnetic-plated Wire