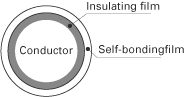 The self-bonding magnet wire is a copper conductor covered with two layers of coat-a self-bonding film of thermoplastic,thermosetting or other material over an insulating film of polyurethane,polyester or the like.
In order to meet cutomers' diversified needs-types of work and application-we manufacture a wide variety of self-bonding wires by expertly combining the bonding layer with insulating film.
Classification of bonding layers

Wire designation
According to the kind of insulating film,self-bonding wires are expressed in series of codes,"Abbreviation of insulating material"+"Type of self-bonding layer." In principle,no indication is for polyurethane insulating film.