Ribbon Wire is a magnet wire with a flat conductor.
Ribbon Wire (-NAR) (-CCAR) (-ALR)
Product Inquiry
FMGW makes ribbon wires of various kinds for miniaturization and high performance.
Features
Better than round wires in terms of space factor.
Aluminum and copper clad aluminum wires further reduce coil weight.
Structure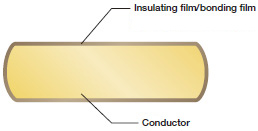 Applications
Moving coils,printer coils, small motors, highclass speakers and transformers.
Range of manufacture
Type
Insulating Film
Bonding Film
Thickness/Width
Ratio
Equivalent Round
Conductor(mm)
-NAR
SF.B
PE
SF.EI
EI
MZW
LOCK
LOCK Y1, Y3, Y5
1:3 to 1:15
0.09 to 0.60
Minimum conductor thickness 0.03
Type
Insulating Film
Bonding Film
Thickness/Width
Ratio
Equivalent Round
Conductor(mm)
-CCAR
UE
PE
SF.EI
EI
MZW
LOCK
LOCK Y1, Y3, Y5
1:3 to 1:4
0.15 to 0.40
Minimum conductor thickness 0.06
Type
Insulating Film
Bonding Film
Thickness/Width
Ratio
Equivalent Round
Conductor(mm)
-ALR
UE
PE
SF.EI
EI
MZW
LOCK
LOCK Y1, Y3, Y5
1:3 to 1:10
0.20 to 0.40
Minimum conductor thickness 0.07
Comparison of space factor